High temperatures and high drama combined in July for some spectacular sporting moments. Here's what the month ahead has in store as the summer continues to fly by.
Take on the Tour
The infamous mountain stages of the Tour de France delivered drama and excitement as usual with Team Ineos' Egan Bernal breaking through the ranks to claim the yellow jersey. If those steep and stormy sections have you inspired check out our guide to the iconic climbs of the Tour, written by our friends at Epic Road Rides.
If you're taking on the greatest climbs the French mountain ranges can throw at you, make sure you are kitted out well. The new summer season collection from Rivelo includes lightweight, climbing-specific materials and designs to keep you cool and comfortable.
Winter Needs Us
When faced with the scale of a problem like climate change it can be difficult to see how you can make an impact. That's why we're working with Protect Our Winters UK to learn how to take positive action to address the climate crisis. Start with easy steps to Take Action as an individual and encouraging others to do the same.
Marmot + SportPursuit Climbing Camp-Out with Steve McClure
Marmot athlete Steve McClure is one of the most acclaimed rock climbers in the world – his first ascent of the un-repeated Rainman, at 9b, stands as the hardest Sport route in the UK. We are thrilled to be offering SportPursuit members the exclusive chance to join Steve in the Peak District for a weekend of climbing and camping on 7th-8th September, produced by Blackbox Adventures. Read more.
If that wasn't exciting enough news, we've just dropped the prices across a wide range of Marmot kit to celebrate – save up to 50%!
Your new favourite ski show
The White Out is a new TV show presented by Olympian Emily Sarsfield and ski journalist Rob Stewart, bringing you the latest and greatest from your favourite snowsports. The first episode rounds up what's been an awesome 2018/19 season and looks ahead to next winter, when they will be keeping you up to date with monthly episodes!
The Life of Tri
We've been lucky enough to attend some amazing triathlon events this year run by Always Aim High events. With two of the events in their popular Adventure Tri series completed – the Slateman and Snowman triathlons – the final challenge will be the Superfeet Sandman Triathlon 14th-15th September. A challenging course at Newborough Forest and the world famous Llanddwyn Beach, it's sure to be an amazing conclusion to the series.
If you've been inspired to try your first triathlon, or need some fresh kit after a busy racing season, don't miss out on our Summer Triathlon Shop Clearance with up to 70% off top performance brands.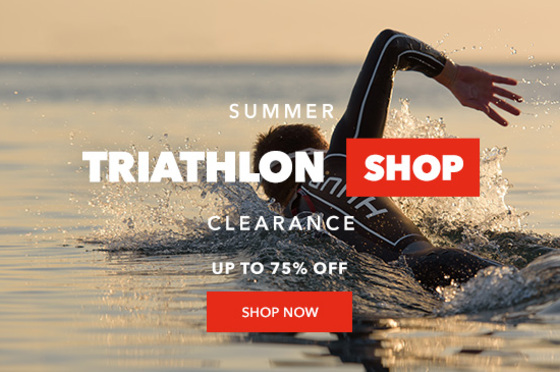 Did you find this article interesting? Let us know in the comments below or give us a thumbs up!