Everything we buy has to be produced from something. That's obvious, right? But what we sometimes don't consider as much is where those materials come from and the impact they have on the natural environment – our favourite playground. Scroll down to discover leading outdoor and sports brands who have been asking the question and finding some awesome new solutions. Shop all these brands in our new Global Recycling Day curation.
Columbia Sportswear
A big challenge with producing any outdoor gear is making sure it performs for your chosen pursuit, keeping you warm, dry and comfortable. Columbia's Outdry Extreme ECO range shows that you can use recycled materials without sacrificing that performance.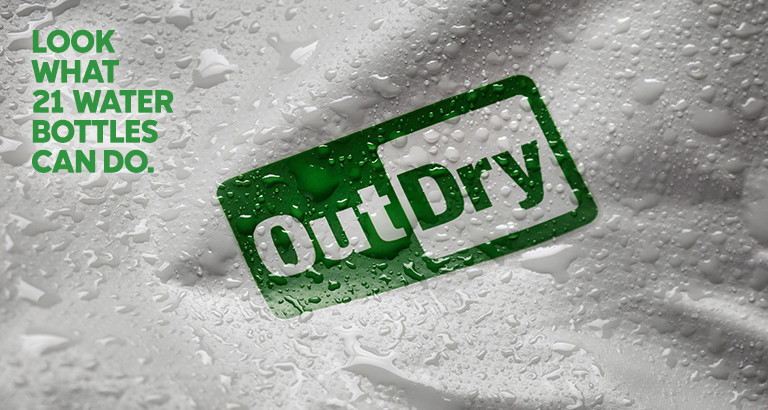 The main fabric of the OutDry Extreme ECO jacket is 100% recycled polyester, and is made from approximately 21 recycled bottles – any trims and additional features also used recycle content. Using recycled materials helps reduce energy needed for oil extraction and reduces landfill burdens by keeping plastics out of waste streams.
Shop Columbia in our Global Recycling Day collection.
Spektrum Goggles
Fabrics with recycled content are becoming more common, but it's not just our outerwear that can bring new purpose to worn-out and used materials. Think of all the plastic in you accessories and smaller items. Spektrum have done just that with their new Duo-Tone goggles – using new plant based polymers derived from castor and ricin oils alongside recycled polyester.
Spektrum Skutum Duo-Tone goggles. The frame and plastic detailing are all derived from bio based polymers and the strap consists of recycled polyester – an innovative new approach for this snowsports essential.
Shop Spektrum in our Global Recycling Day collection.
Planks Clothing
The rider-owned company speaks for a community of powder-loving skiers and snowboarders with their mission to #BeMoreFriendly. This means using recycled content in over half of their styles, supporting and giving back to the skiing community, and high fives all round.
Shop Planks in our Global Recycling Day collection.
BBBYO
One approach to the problem of excess waste that goes along with recycling is reducing single-use plastics. BBBYO produce beautiful bottles in durable stainless steel and glass – a long-lasting and good-looking alternative to plastic bottles that are used one and thrown away.
Shop BBYO in our Global Recycling Day collection.
Vaude
An outdoor company that considers decisions through the whole process of a products life as one "Green Thread", German brand Vaude is leading the way with sustainable design and production.
Recycled materials, such as regenerated polyamide from waste materials, are just one part of a wider picture that includes their own production facility in Germany being 100% powered by renewable energy.
Shop Vaude in our Global Recycling Day collection.
UNTRAKT
New kid on the slopes UNTRAKT have already proved a big hit in their first season with their range of eco-conscious big mountain apparel. Thinking of the entire life-cycle of their collection these mountain-ready jackets and ski pants are both recycled and recyclable.
UNTRAKT Mens Obsidian 3L Jacket

UNTRAKT Mens Feldspar 2L Ski Trousers

UNTRAKT Womens Feldspar 2L Jacket
Refreshingly honest, with a 'nobody's perfect' approach, UNTRAKT do what they can to reduce their impact with recycled materials from single-use plastics and waste materials from production going into their clothing. With timeless styling and durable construction it will be also be a while until you need to recycle and replace them (how long depends on how hard you shred!).
Shop UNTRAKT in our Global Recycling Day collection.
Find out about Global Recycling Day – 18th May 2019 – or browse our collection of awesome products using recycled materials here.